Regular price
$0.00
Sale price
$100.00
Unit price
per
Sale
Sold out
These are purely functional. Your socks have been fighting a battle with gravity your whole life, and they desperately crave security. How did you even survive without these?
Handmade out of top grain leather and plush lingerie elastic, these secure easily with a hook clasps and hang on to your socks (for dear life) with garter clasps.
They're quite adjustable, but calves come in all different sizes, so pick yours or let me know the circumference of your leg right under your knee! 
Production Time: This item is handmade especially for your hot bod, so please allow 4-6 weeks for us to make it.

Read more.
Size Guide

Sizing FAQ

I'm a ~weird size~. Can you make a harness that'll fit me?

Listen, you're the thousandth person who's said this to me. I promise, your body isn't weird, what's weird is the idea that the full spectrum of human bodies should be able to fit into one chart. Spoiler alert: they don't. I regard my sizing chart as a jumping off point, so in the highly likely event that your hot body doesn't fit neatly into it (mine certainly doesn't), please include your measurements when you check out so I can be sure to make you something that fits you perfectly. I also recommend letting me know if you're under 5'2" or over 5'11"! No body is too big, too small, or too ~weird~ to look hot in a leather harness.

 

But do you charge more for custom sizing?

Nope, never.

 

I'm plus size. Which harnesses will fit me best?

They will all fit you. When I make plus size harnesses I don't just take the pattern for a small harness and expand it; I take the time to consider how it will best fit at every size. You might notice small design changes between the straight and plus size versions of the same harness (an extra buckle here, an extra strap there), which have been added to the design of a harness after fit testing on different body types. These differences will be mentioned in the product description of any given listing!

For plus size bodies especially, I recommend sending me your measurements. There are so many variations to how bodies are shaped, and my sizing chart just doesn't cover it.

Take a look at my listing photos and my Instagram to see a variety of body types in all of my harnesses.

The one shortcoming I'm aware of is the garter straps on some of my hip harnesses. On bodies with thicker thighs these straps look cute as fuck when you're striking a pose, but in practical use they tend to lose the battle with gravity and slip down. For the Tahliah garter harness I've added an extra strap to help with this (although it doesn't entirely solve the problem). With the Jolene harnesses I've made these straps removable. The mid-thigh is a really sexy place to have a strap visually, but sadly it's not a place where a strap wants to functionally sit on most bodies. Know that I'm constantly brainstorming a solution.

 

I'm AMAB (assigned male at birth) and/or transgender. Which harnesses will fit me best?

My sizing chart is based off of global averages for cis women... have I mentioned it's flawed? I'm a cis woman with very narrow hips, so according to my own damn chart I am both a size small and a size 1X. If you're trans or AMAB, there's a good chance you'll notice similar discrepancies between your hot bod and my basic-ass chart. What to do? Well… do I sound like a broken record yet?

 

In addition to your measurements, let me know any information about your body that might help me determine the right fit. Some examples:

"I'm an AFAB person who's had top surgery"

"I frequently have trouble finding things that fit my broad shoulders"

"Much like you, I have a tiny (but frankly adorable) butt"

"I'm 5'11" with a long torso"

If you're planning on having a surgery in the future and want your harness to fit before and after, don't hesitate to send me a message. There's a good chance I can make you something adjustable enough that it'll fit the current and future you. 

If you're a person with a penis who's buying a strap on, I recommend the Jolene. It's easy for me to adjust that one so that it sits higher on your pubic bone. Please let me know that that's how you'll be wearing it, and I'll make that adjustment at no extra cost!

 

I have a disability. Which harnesses will fit me best?

See the above answer!

If you use a wheelchair or other mobility device, I'm happy to make adjustments to my harnesses to make them more comfortable (i.e., no buckles in the back).

While I'm happy to make harnesses that fit and flatter your hot disabled bod, I am hella unqualified to make harnesses that aid in correcting medical issues. See below…

 

Will the posture harness help with my scoliosis/other medical condition?

I have zero medical training (I don't think my late nights on reddit count for anything), so I can't recommend anything for this purpose. The posture harness can help you keep your upper back and shoulders straighter, but it is absolutely NOT a medical device. I cannot make something that will help correct your posture if you have an underlying medical issue. I really wish I could help, but that's outside of my area of expertise, and I worry I would do more harm than good.

 

I have giant boobs/small boobs/no boobs. Which harnesses will fit me best?

Most of my harnesses fit around the boobs, so they accommodate the full spectrum of boobage! Take a look at my listing photos and my Instagram to see a variety of body types in all of my harnesses.

 

I'm planning on losing/gaining weight. Can I get a harness that will fit me across this process?

Within limits, yes. Let me know your current and projected measurements, and I'll build in some extra wiggle room.

 

I want to get a strap on that I can share with my partner, but we're different sizes. Is this possible?

If you're within two or three sizes of each other I can generally make this happen. Send me both of your measurements!

  

My body has changed and my harness no longer fits me. Can I get it adjusted?

Yep, I'm happy to do this for a small fee! If you're in Chicago you can set up a time to stop by, otherwise you can mail it back to me. Either way, send me a message to let me know what harness you have and what needs to be adjusted.
Share
View full details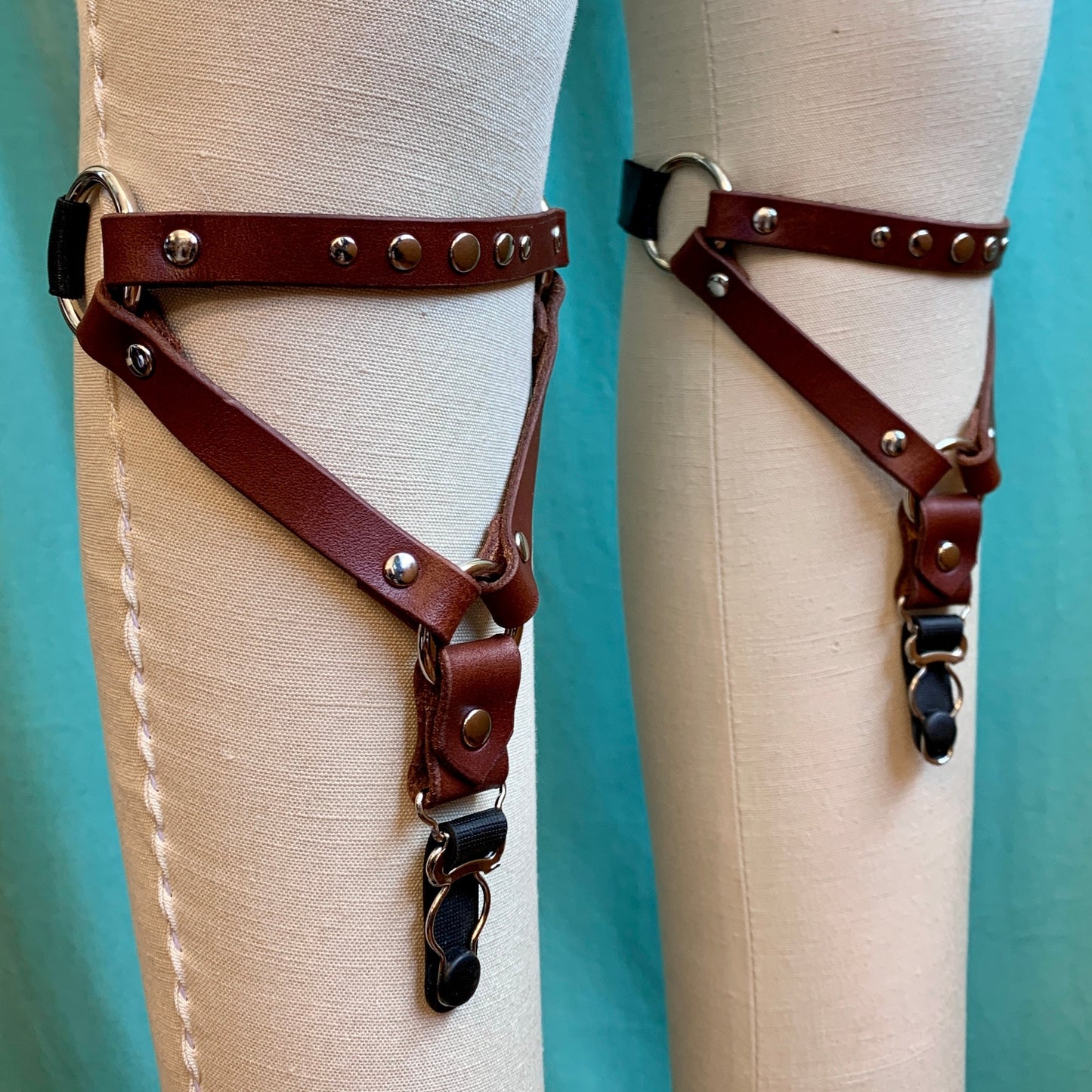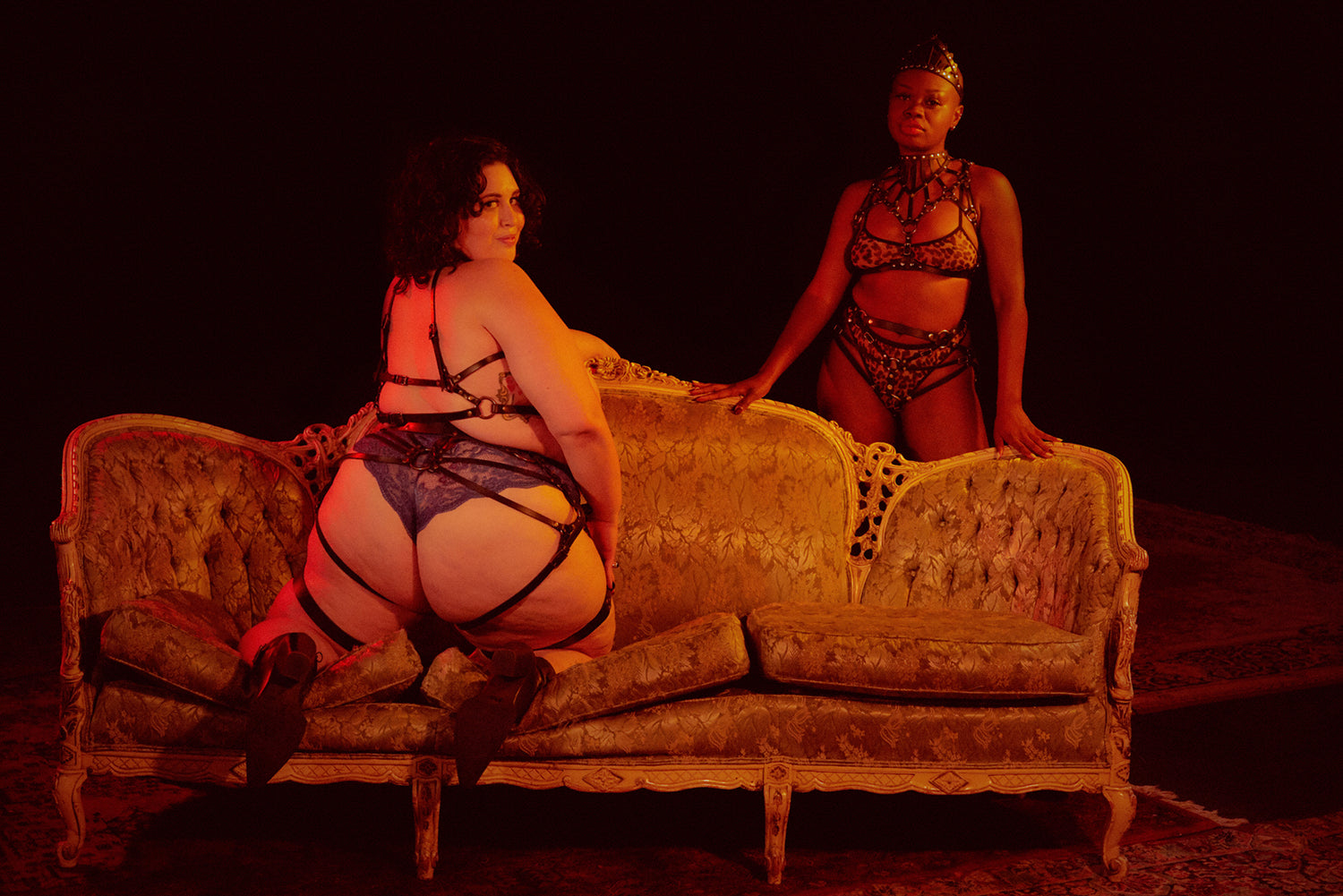 NOT YOUR SIZE? NOT A PROBLEM.
Handmaking leatherwear in Chicago, Illinois means custom solutions are a snap - and affordable. Add your custom measurements and get something made just for you at no additional charge.